America is in crisis. The convergence in 2020 of the Covid-19 pandemic and the interrelated crises of economy, racial justice, political violence, climate disasters, and a collapse of trust has laid bare the danger and high stakes we Americans now face. Our constitutional democracy and commitment to the American promise of human liberty, equal citizenship, and effective self-government are in urgent need of repair and renewal.
Almost everywhere, Americans have a pervasive sense that we are not being heard, and that we have no power or control over the forces impacting our lives, families and communities. Nearly every American now says "government is run by a few big interests looking out for themselves, not for the benefit of the people." Yet, through our anger and our sadness comes clarity of purpose. Americans are stepping up to ask what needs to be done—no matter how hard—to preserve and improve this country that we love.
We have an answer. An amendment to the U.S. Constitution that will:
Put power in the hands of all Americans with regulation and limits on concentrated money in elections and ballot measures;
Combat systemic corruption;
Protect the equal rights of Americans to a voice, a vote, and real representation in our political system;
Make representative self-government more effective; and
Revive the sovereignty of the American people.
Big reform and renewal happen in America in historic moments of crisis and destabilization as we now are experiencing. But it does not happen without Constitutional change, nor without Americans willing to lead and drive that change.
Our recent report Keep the Promise: America250 provides Americans with three key pieces of information needed to take on the challenge of working together to pass and ratify an effective amendment to the Constitution by July 4, 2026.
---
Now is the Time to Be Part of History: Share Your Thoughts
We know Constitutional amendments are not easy. But imagine the United States without amendments:
No Bill of Rights
No ban on slavery and no equal voting rights regardless of race
No due process or equal protection of the laws
No right to vote for women
Poll taxes and no progressive income tax
Unelected Senators,
No right to vote for 18,19, 20-year-olds
No term limits for president
We are not the first generation of Americans to do this, nor will we be the last. Constitutional amendments arise in times of disruption in America and reflect movements and concepts developed for decades before that. They were ratified when the historic moment arrived only because those committed to them were ready.
This moment and this solution are a matter of national consensus. After listening to thousands of Americans across the political spectrum through several large-scale programs, we have proposed language for the 28th amendment to address this fundamental problem. The resulting language is ready to move toward Congress with bipartisan support. Now is the time to weigh in and share your thoughts on how we best address political corruption for a better future.
---
Broad National Consensus
The work toward this amendment is based on national consensus. It is led by people across partisan lines, from all walks of life, motivated by a wide variety of concerns. What we all recognize is the fundamental problem with a system that undermines the voice of the people and instead incentivizes our elected officials to focus on big-dollar political donors and fundraising.
Over the past few years, as Americans across the nation have come together to drive this fundamental reform, we have accomplished incredible achievements. Momentum for this reform is growing with astonishing speed and success.
Several large-scale recent advances highlight the national consensus for a 28th Amendment to help ensure every American has a voice in the decisions that affect our lives.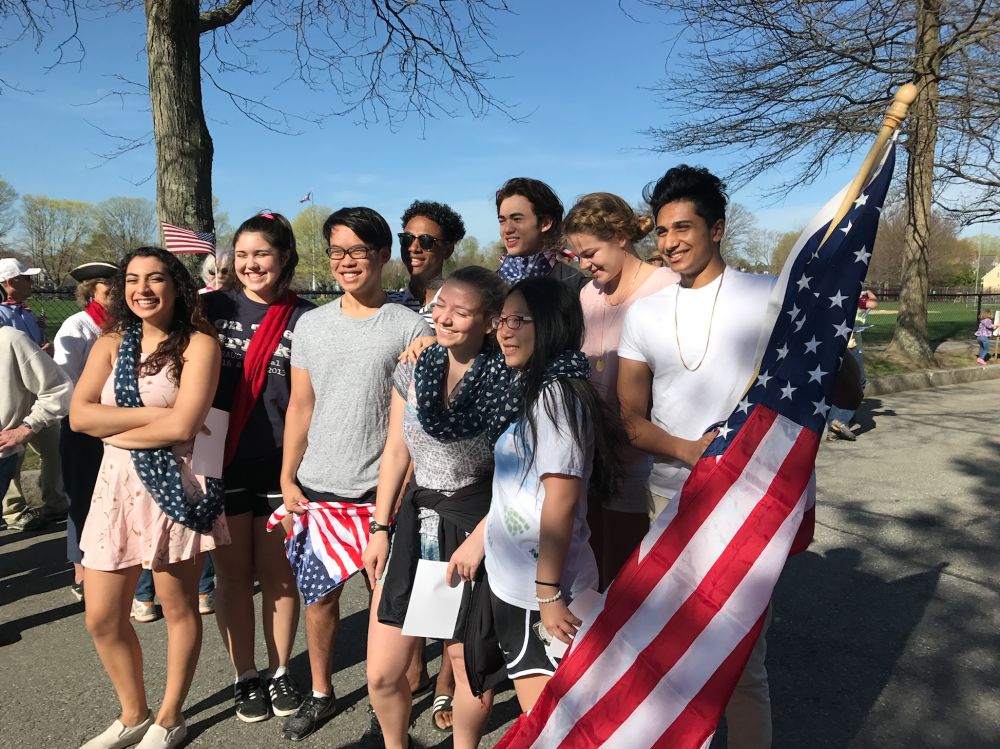 Below, see summaries of these four exciting advances:
People Across the Nation Weigh in on the Amendment
Over the past two years, American Promise has engaged Americans from across the political spectrum and from every region of the country, as well as elected officials, political experts, law professors, judges and lawyers, and leaders across many sectors. We convened dozens of town halls and community meetings in every region of the country. We received comments, suggestions and criticism through our interactive Writing the 28th Amendment website. As a result of all of this work, we have created our new report, Keep the Promise: America250, which shares three key pieces of information needed to take on the challenge of working together to pass and ratify an effective amendment to the Constitution by July 4, 2026.
Citizens Drive an Amendment Recommendation in Massachusetts
In 2018, American Promise members with 1,000 volunteers, 140,000 signatures, and millions of voters used the state ballot initiative to create the first-in-the-nation Massachusetts Citizens Commission on a Constitutional Amendment for Government of the People. Republicans, Democrats, and Independents alike endorsed the idea, and with 72% of the voters in favor, the Citizens Commission was underway. After two years of hearings, expert testimony, and deliberation, the Massachusetts Citizens Commission has recommended a new proposal for amendment language to help break the logjam in Congress.
Amendment Named a Critical Recommendation to Reinvent Democracy for the Future
A 28th amendment is prominent among the key reforms recommended in the recent report Our Common Purpose: Reinventing American Democracy for the 21st Century by the Commission on the Practice of Democratic Citizenship convened by the American Academy of Arts & Sciences. The report is the product of two years of study, research, and nearly 50 listening sessions with Americans from various demographic and political backgrounds across the nation. It outlines the crucial reforms needed to improve the resilience of our democracy by 2026, our nation's 250th anniversary. The recommendation to ratify a constitutional amendment putting limits on campaign spending is part of the strategy focused on giving American citizens equality in voice, choice, and representation, as well as more effective self-government—ensuring a better future for all Americans.
20 States and 800+ Cities and Towns Call for Amendment
Through citizen-led campaigns in towns, cities and states across the nation, more than 20 states (more than half the 38 needed to ratify) and 800+ cities and towns have formally called on Congress to pass the 28th Amendment and return it to the states for ratification. Recently, a poll in Maine to a representative sample of hundreds of citizens once again demonstrated cross-partisan support for the amendment, with 72.64% support across the political spectrum. These findings mirror the strong support shown for this issue again and again through polls, surveys, and on the ballot in cities, counties and states across the nation. It is these local efforts, driven by everyday Americans, that will lead to our ultimate success and the foundational change we need to preserve our government of the people, by the people, for centuries to come. Want to be part of this historic amendment?
---
What's Coming Next + Add Your Voice
In response to the growing crisis of American governance and social cohesion, American Promise is working to build the necessary cross-partisan/non-partisan systems-level capacity for effective and permanent civic and constitutional renewal and reform.We don't do this alone. Our strategy depends on deep collaborations and the expansion of an 'ecosystem' reform movement. We know we don't know it all. No one does. But we also know that when Americans unite behind our shared vision of a better future and work together to get there, we are inspired by and learn from each other.
Together, we can do this. Join us.
Ready to weigh in? Click here to take our survey and share your thoughts.